This guide will help you join the webinar on Zoom. Please note, that when you first join, you will be sent to a waiting room. We will then invite you into the webinar. All participants will be muted until the Question Period.
Email link:
You will receive an email invitation from the meeting host
Click on the link in the email (join via PC, Mac, iOS or Android)
You will be taken to the meeting
Using Chat
You can use the 'Chat' facility to send text chat to all participants or privately to specific participants.
Click on the 'Chat' icon in the tool bar, again hover your mouse over the Zoom window if you can't see the tool bar.
A chat window will then open. Select 'Everyone' or the name of the person you wish to send a chat message to.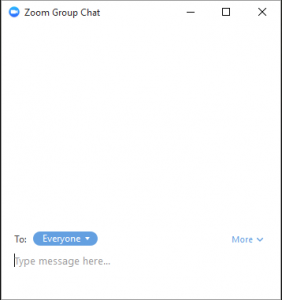 Audio only
It is possible that during the conference participants will be ask to turn off their cameras and move to audio only, particularly if there are problems with the available bandwidth.
To do this simply click on the camera icon at the bottom of the Zoom window.

Need Help? Send an Email!